In markets such as oil and gas, mining, transportation, military, and aerospace, the push for increased corrosion resistance, conductivity, and overall cost performance when looking for the right interconnect solution is critical. At the same time, RoHS compliance must also be taken into consideration. Taking so many factors into account can pose several challenges when looking for the right interconnect solution capable of handling some of the harshest environments. Fortunately, there is a large selection of RoHS compliant connectors to meet the demands that harsh environments require.
What is RoHS?
RoHS stands for Restriction of Hazardous Substances, also known as Directive 2002/95/EC. This standard represents a regulations group that originated in Europe with the goal of restricting hazardous material usage in electric and electronic products in order to help the environment and protect workers. Materials banned by RoHS are known to pollute landfills and are dangerous in terms of occupational exposure during both manufacturing and recycling.
Banned substances under RoHS include lead (Pb), mercury (Hg), cadmium (Cd), hexavalent chromium (CrVl), polybrominated biphenyls (PBB), and polybrominated diphenyl ethers (PBDE). Four different phthalates (DEHP, BBP, DBP, DIBP) were later added under RoHS 3.
RoHS 2, also known as EU Directive 2011/65/EU and enacted in 2011, expanded the substance restrictions across all electrical/electronic equipment, cables, and spare parts. RoHS 2 also introduced CE certification marking to electrical and electronic equipment, requiring manufacturers to issue an EU declaration of conformity to show they have met their legal obligations. RoHS 3, or Directive 2015/863, took effect July 22, 2019, and added four additional restricted substances (the phthalates mentioned above) to the original list.
RoHS and Interconnects
RoHS drives a more environmentally conscious approach to many aspects to design, including interconnects. Specifically, it has driven as increase in demand for compliant platings. Among these RoHS compliant interconnect platings are:
Black Zinc Nickel

Nickel Teflon

Zinc Alloy

Stainless Steel

Electroless Nickel

Anodized
Choosing the right plating for your application is no minor decision - the selected material will impact the connector's performance, life cycle, quality, and cost.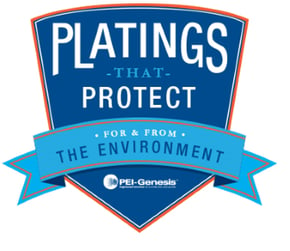 There are several other key considerations in addition to choosing among RoHS compliant materials. Many harsh environment applications also require platings that are corrosion resistant and can withstand a minimum of 500-hour exposure to salt spray. Aesthetics are also taken into account when selecting plating. Although always secondary, there are certain applications with preferences for black plating options. Several industry-leading manufacturers have also developed their own RoHS compliant plating options, including Amphenol and ITT Cannon.
RoHS Compliant Plating Options
Black zinc nickel, electroless nickel, and zinc alloy are three commonly used plating options. Although they share a similar purpose, their offerings differ.
Black Zinc Nickel
Black zinc nickel is ideal for applications with a preference for black RoHS compliant plating options that are also capable of withstanding extreme conditions. This durable, effective, and visually appealing plating works well for D38999 connectors that come into contact with harsh operating environments. They include 500-hour salt spray protection, provide shell-to-shell conductivity that is less than 2.5 millivolts, and are guaranteed for up to 500 mating cycles. Black zinc nickel plating is also non-magnetic, military qualified, and conductive for EMI shielding.
Electroless Nickel
Another popular RoHS compliant interconnect plating option is electroless nickel. It offers shell-to-shell conductivity that is less than 1 millivolt and an operating temperature of 200°C. Electroless nickel plating is also non-magnetic and suitable for use with all major circular connectors.
Zinc Alloy
Zinc alloy is another RoHS compliant option for plating and is available in versions from Amphenol and ITT Cannon. Its shell-to-shell conductivity is less than 10 millivolts and, like black zinc nickel, has a maximum operating temperature of 175°C. In addition to being non-magnetic and being rated for 48-hour salt spray protection, zinc alloy plating is also non-reflective.
Other RoHS Compliant Options
The table below summarizes all RoHS compliant options offered at PEI-Genesis and illustrates additional characteristics of each one. Please note that each manufacturer has different plating formulations and processes, so plating options may vary slightly.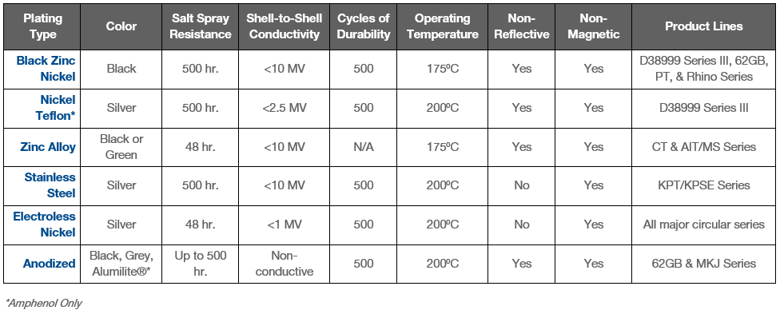 PEI-Genesis: Your Source for RoHS Compliant Interconnects
At PEI-Genesis, we recognize the importance of RoHS compliance when it comes to finding the right interconnect solution for your application. Let us help you remain RoHS compliant without compromising performance. PEI-Genesis offers a broad range of RoHS compliant plating options to meet all of your connector needs, including those that must endure harsh environments or meet strict military standards. Our team of specialists will work with you to find the right plating option for your application.