Meet Mark Baptista – a long term member of the PEI-Genesis team, rounding out almost 25 years of service. Mark began his career at PEI-Genesis fresh out of school with a degree from Temple University and the desire for professional experience; and he sure has gained it over the years.
Before joining the company, Mark never knew the connector and cable assembly industry existed,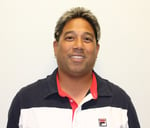 as the connector is usually the last component of a design that people think of. However, on a leap of faith he submitted his resume for an entry level position with a technical background. As the first applicant for the position, the timing was everything in this instance. Steven Fisher, Chairman & CEO of PEI-Genesis, even commented "I will hire you as an experiment, and let's see how you do."
Fast forward 24 years later, Mark now knows the ins and outs of connectors and cables as he is the Internal Applications Engineer Manager. Prior to transitioning into this position, Mark has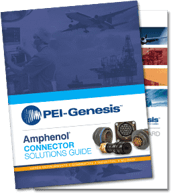 taken on various roles in his time at PEI-Genesis from Product Manager, Marketing, and an Internal Applications Engineer. Throughout these various responsibilities, he has had the opportunity to be apart of some special projects, including his assistance in the opening of PEI-Genesis UK, along with the development of our Connector Selection Guides and Cable Assembly Kit Cookbook– vital resources for customers. Though Mark has experienced many different areas of the company, he explains that it's been one of his biggest challenges. Utilizing his skills while also learning new ones for the opportunities presented to him has been a difficult balance as he does not want to abandon his old skills for new ones.
Mark's focus as an Internal Applications Engineer Manager lies within supporting customers with technical assistance for their design needs. The most exciting aspect about working at PEI-Genesis for him though is the wide range of disciplines that are needed to make the company successful. Since Mark has been in several different roles throughout his career, he understands how each facet must align. Currently, he's working on upgrading the company's connector accessories portfolio, by improving the associated selling through various mediums. Mark feels that this can be quite complex since there are many different product offerings, but it is crucial to make the portfolio easier to sell.
The most innovative advancement Mark has seen during his years in the industry is the utilization of the web. The web has become a large and crucial segment of companies' sales strategies and has changed the connector industry tremendously over the past 15-20 years. Mark stresses that web-based tools and presenting intricate connector solutions in a quick, concise manner is difficult to convey. The complexities of connectors and cable assemblies present unique challenges for almost any company's website.
As for the future of the industry, Mark foresees the widespread availability of products but only having a few key players in the game. He believes the way to becoming the industry leader is who can sell the same products in the easiest and quickest way. In addition, he foresees there will be specialized segments and knowledge-based companies, rather than one company offering every type of product that is available.
When he's not providing connector and cable solutions, Mark has an active life playing and teaching tennis. His wife, Susie, and two daughters keep him busy outside of work as well. If Mark could choose, his biggest mentor would be the late Kent Carlson, a member of the PEI-Genesis family. Mark stresses that he owes a lot to Kent, as his intelligence, quirkiness, and challenging personality has constructed Mark into the person he is today. Also, if given the chance, he'd advise his younger self to take every opportunity to experience the world around us – everyone has something to offer in some regard!