Meet Joan Jowett – a thirteen year member of the PEI-Genesis family. Joan's journey began in June 2008, when she started her first role as a Buyer at our Philadelphia, PA headquarters. Joan then became a Project Manager for Proprietary Products within a year, where she began hiring and training new employees. Eventually, the opportunity presented itself for Joan to join the Training team. Joan explains, "I really couldn't say no, as I realized training people was the part of my job that I enjoyed most." She has since been approached for other positions but is satisfied to stay put as a Training Manager.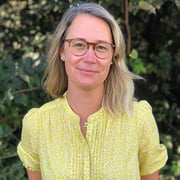 Regarding her start in the industry, Joan states, "I stumbled into it. I never in my life would have guessed that I'd work in the electronics industry." Prior to working at PEI-Genesis, Joan went to the University of the Arts and concentrated on woodworking. Following graduation, Joan accepted a role at a small clothing boutique as a Buyer and then transitioned to a new role as a Buyer of gourmet foods for a different store. Eventually, she left her role as a buyer of gourmet foods to join PEI-Genesis.
Upon joining PEI-Genesis and the electronics industry, Joan notes the greatest challenge for her was learning the language of connectors and cables. This included learning part numbers for different connector series and the industry-standard abbreviations. Joan explains, "Looking back, I remember feeling like the people I worked with were robots speaking a language or code to each other."
Joan maintains that it's the people of PEI-Genesis that drew her to join the company. She explained, "I've had the opportunity to work on many different teams within PEI, and I'm always excited to get the chance to partner with different people."
To Joan, the most intriguing aspect of connectors and cable assemblies is solving problems for customers. She states, "I love hearing about the applications our customers are working on and the ways that PEI is able to step up and help them advance their prototypes to production."
As Senior Training Manager of North America and Asia Pacific, Joan oversees the onboarding and ongoing training for each region's employees. Currently, she and the Training team are working to standardize best practices throughout the company and implement a blended learning approach, which includes instructor classes, on-demand learning (e-learning), and on-the-job learning.
Joan always feels a sense of pride when she sees her 'students' understand the content she is teaching them. She clarified, "I think it's so cool to help people learn something new."
Looking forward, Joan doesn't have any specific predictions for the future of the interconnect industry. Instead, she believes connector trends and needs will adapt as engineers and inventors push the envelope with technological advancement.
Outside of training the employees of PEI-Genesis, Joan loves to bake and often brings her self-proclaimed 'baking experiments' for her colleagues to try. When traveling, Joan doesn't have one preferred destination, but enjoys traveling anywhere that is warm. She noted, "I've been very fortunate to travel to many different places for work and fun. It's hard to pick a favorite destination as each place is unique and has something special about it."
To end, when asked what advice she would give her younger self, Joan stated, "Aside from investing money in certain companies, I would say continue following your intuition and keep your eyes open."