Meet Dan Borges – a member of the PEI-Genesis team for 15 years. Initially, Dan was drawn to the family-owned aspect of the company and since worked in various roles within PEI. From Product Manager, to Business Development Manager for the aerospace market, and now to Sales Engineer; Dan's seen a lot here at PEI.

Prior to joining PEI, Dan never worked with connectors – now, however, he lives and breathes them. He knew from early on in life that he wanted to be an engineer and has always been drawn to the hands-on aspect of the job. Upon graduating from Temple University with a degree in Electrical Engineering, Dan briefly joined the automotive industry, but he did not see much opportunity for growth there. He then spent a few years working with semiconductors, followed by his entrance into the wide world of connectors and cable assemblies.
Dan's focus as a Sales Engineer lies primarily within our Engineered Solutions Group, including our FilConn brand. He has assisted in several projects differing in application and program throughout his career here. FilConn's technology and custom application capabilities are cutting edge and tend to shock fellow engineers, but as Dan says, "If you can imagine it, FilConn can do it".
The most innovative advancement Dan has seen during his years in the industry came from a FilConn custom connector. This particular solution was for a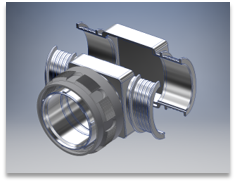 customer in Orlando who presented a unique challenge for our FilConn team. They were building an application and needed a specialized connector, specific to the military market. The application called for a high-density type of connector due to limited space restrictions, plus EMI requirement. FilConn was able to design and manufacture the custom connector, from start to finish. With Dan's expertise, the connector was engineered into place and a partnership was formed.
Not only is Dan's focus within our Engineered Solutions Group, but also PEI's design-in portfolio capabilities. He finds connectors and cable assemblies to be very interesting; he's like a kid in a candy store when he can propose a solution to new engineers that may not have thought could be possible.
As for the future of the interconnect industry, there is a shift toward small form factor. Solutions are becoming smaller and higher density, especially in the military market. Plating materials are also evolving since the industry is becoming more environmentally conscientious and RoHS compliant. SWAP-C (Size, Weight, Power and Cost) is also a key factor in the progression of the military sphere. Designs must foresee future advances to conquer new and unique challenges that are presented.
In line with these everchanging challenges, the most exciting project Dan is working on right now has been developing an ongoing solution for a client local to our Philadelphia headquarters. With the help of Dan, PEI has become their trusted advisor due to our technical expertise and support throughout the project's duration. Dan is looking forward to continuing to collaborate with this client on future custom applications from design to delivery.
Dan has enjoyed the opportunities for growth within PEI – he's been able to lead product lines and grow those products to fruition. He has been able to innovate and broaden the capabilities that PEI has to offer. While growing as an individual alongside the growth of the company, Dan is constantly exploring unopened doors to develop new opportunities within the connector and cable assembly industry.
Outside of the complex world of connectors, Dan is originally from Portugal and likes to visit at least once a year to spend time with his family. He is an avid supporter of the Benfica soccer program, while also enjoying the local Philadelphia sports teams. Traveling with his wife of nineteen years, Sonia, and two children, Gabriela and Juliana, to new destinations is also a favorite pastime and on his wish list of places to visit is Australia and Bora Bora!