Meet Craig Burgess – Product Manager of PEI-Genesis's Sure-Seal branded product line. Craig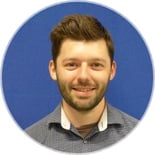 joined the PEI-Genesis family back in October 2012 at our Southampton, UK facility. Immediately after completing his studies of Computer Science at University, he was searching for a short-term job in production while he evaluated what career path he wanted to follow. With a passion for electronics, Craig soon realized after working a few months in the business that the connector and cable assembly industry is what he wanted to pursue.
However, Craig's path was not always toward electronics. When Craig was in school, he was given the choice between studying electronics or computing but was told that computing was where the future was headed, even though electronics had always been his passion. Naively, as he admits, Craig followed the advice of his peers, rather than his passion and continued down the path of studying Computer Science. After five years of higher education, he knew he needed to make a change and joined the vast world of electrical connectors at PEI-Genesis.
After becoming a permanent employee in 2013, Craig's time here at PEI-Genesis has been nothing short of an adventure. From initially building connectors in our Southampton Production Facility, he began to look at ways to improve the production process. After making several recommendations to the production team, he quickly moved into the role of a Custom Assembly Technician. There, Craig was tasked to work with PEI-Genesis's Engineered Solutions Group (ESG) to design and develop harsh environment cable assemblies for a wide variety of applications, including marine, military, oil & gas, and industrial. While in this role, Craig was able to develop his computer-aided design (CAD) skills, while also adding multiple qualifications not only for IPC and J-STD, but also CompEx for Hazardous Awareness design.
From internally designing cable assemblies, two years later Craig was promoted to the role of an Internal Applications Engineer, specifically for the PEI-Genesis's Engineered Solutions Group. There, he provided technical support to customers needing connectors and cables for harsh environment applications. Though this role was very technical based, it was a more sales focused position since he was handling all aspects of product management. From technical tasks such as studying the back reflection of a fiber optic cable assembly to calculating quotations, the Internal Applications Engineer role gave Craig the chance to be fully involved in even the most complicated of programs.
After working diligently within the Engineered Solutions Group for five years, Craig was given the opportunity to relocate from our Southampton, UK office to our corporate headquarters, in Philadelphia, Pennsylvania. In 2018, he became the Product Manager for our Sure-Seal division – PEI-Genesis's very own range of products, specializing in industrial IP67/68 connectors.
Aside from Craig's journey within the business, the most exciting aspect of working at PEI-Genesis for him is the potential the company provides. He believes if you work hard, bring creativity to the table, and remain honest anyone can succeed and leave their mark on the company. For Craig, PEI-Genesis has always been about being more than just a value-added distributor selling part numbers, but rather more about applying problem-solving skills and meeting with customers to understand what the market has in store for the future.
The most intriguing aspect of the interconnect industry for Craig is the custom nature of it. Every customer is different and there is not always a "one size fits all" solution. For every standard product that exists, there will always be a customer who needs something slightly different. In fact, that's where he sees the industry headed. Craig sees much success in reactive customization of connector products, as customers are looking for smaller, IP rated rugged solutions, yet with a short lead time. By truly understanding the product and help navigate design challenges with customers, he thinks it is a key differentiator in this industry.
Beyond the office, Craig enjoys traveling, and since relocating to Philadelphia, he is naturally able to see a lot of new and exciting places. He is also interested in exploring some of the famous state parks in the US, Canada and South America. His idol growing up was the late Sir Bobby Robson, an English Football Manager, who's success not only made Craig look up to him, but also his ability to remain humble and share that's success with those who helped him get there!