Meet Aubrie Nooney – a fresh face on the PEI-Genesis team. Aubrie joined as the Director of Global Training in May 2017 as she was drawn to the company due to its rich history and culture, combined with the energy and momentum much like a startup organization.
As someone new to the connector and cable assembly business, she has been enjoying her time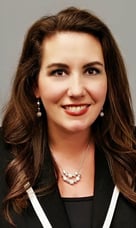 learning about the industry and supporting different training initiatives to assist PEI-Genesis's sales, production and corporate employees. Before joining PEI, Aubrie began her leadership journey in the financial services industry where she focused on business to business development and support. After earning her Master's Degree in Business Management, she quickly saw that developing others through quality training delivery, mentorship, and partnering with leaders on executing their strategic plans was something she wanted to pursue with passion. From there, Aubrie moved into training leadership roles for various large retail organizations, and then landed in the world of connectors and cable assemblies.
Aubrie's focus at PEI-Genesis lies within training and development strategies for the company. She and her team design and deliver training strategies, targeting both new and existing employees to build their leadership, technical skills, and abilities.
In her time with PEI, Aubrie has had opportunities to work on several talent development and change management initiatives with the leadership team. Currently, she is in the process of designing and launching a brand-new leadership development program. Along with these projects, Aubrie is poised to implement integrated processes and systems to attract, develop, and engage talent through performance and succession management for the company; an initiative that she is ecstatic about.
In line with PEI-Genesis's goal of continuous improvement, Aubrie recently represented the company at the 2nd annual Women in Electronics (WE) conference. There she had the opportunity to learn more about the organization's vision of empowering, developing, advocating, and celebrating women in the electronics industry. Where the theme of this year's conference was "Better Than Our Best," there were several compelling presenters – both from inside the industry and outside. From Aubrie's perspective, "Each presenter brought their own personal brand of thought provoking conversation and points to challenge us in different ways – from our own development and leadership to how we can do more to advocate others," she commented.
As a result, she is now part of a cross-functional team working to enhance women's leadership and diversity related initiatives on behalf of the company. With a combined effort, all of Aubrie's responsibilities will help shape the company for the future.
Outside of the office, Aubrie likes spending time with friends and family and traveling to new places. In her free time, she enjoys cooking and is also learning to play golf! Much like many of our corporate headquarters employees, she loves cheering on the Philadelphia area sports teams. Aubrie is thrilled to work with her team and the talented employees at PEI, supporting the company's strategy to be a trusted advisor and deliver best in class service to PEI-Genesis customers globally.