The increasing demand for fiber optic solutions is driven by the need for high bandwidth communication, alongside the growing awareness of the benefits of adopting fiber optic technology. Fiber optics are rising to the top as a high-speed solution for communication and data services, parallel to OCS and μCom.
In fact, the demand for fiber optic cables just for the military and aerospace industries is expected to reach almost $2B by 2023. Because these industries have particularly extreme environments and tough requirements, how can cable assemblies meet these needs now and in the near future?
Fiber Optic Solutions for the Military
One of the areas where there is an increased need for fiber optics and circular fiber connectors is military applications. Fiber optics can be found in everything, from tactical military communication systems to terrain vehicles.
Fiber optic cables are also being used for high-speed land connectivity. One excellent example of military use would be installing fiber optics to meet the communication needs of a shelter hospital.
Military Medical Communication Needs
Military shelter hospitals serve as field centers for wounded soldiers and are typically located far from necessary resources. When needed, these shelters must be deployed as quickly as possible, and this includes deploying the communication and power systems that support the operations inside the shelters. Not only is optical performance key in these types of fiber optic implementations, but so is reliability and hassle-free assembly.
In addition, the environment where field-deployed shelters do their work can be temperamental and aggressive. These shelters – including the cables that support their communication and data transfer – can be exposed to anything from rain, mud, and freezing temperatures to extreme heat, blistering wind, and invasive dust. Cable solutions and military connectors for such situations can be difficult to specify, but there are reliable solutions available.
In one particular instance, the PEI-Genesis team found an assembly solution for a military shelter hospital using both fiber optic cables and copper cables. This particular issue required fiber optic assemblies and D38999 copper assemblies that would work in the challenging environment of a field-deployed military shelter hospital. For the fiber optic portion, the F-Beam 300 Series of expanded beam connectors proved to be the perfect solution to their design needs.
F-Beam 300 Series
The F-Beam 300 series includes expanded beam fiber optic connectors that are easy to use and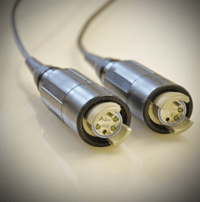 extremely durable. These expanded beam connectors are particularly well-adapted to the harsh environments of field-deployed military applications. They have a MIL-DTL-83526 hermaphroditic interface that negates the need for inline adaptors, or male and female mating halves. These connectors have a keyed boot design for blind mating and are field repairable with tooling, with such features making them easy to use and repair on-the-go. In addition, they are well-adapted to harness or reel stock profiling.
These fiber optic connectors are also interface compliant with MIL-DTL-83526/20 & /21. They are also intermateable, both mechanically and optically with equivalent Junior, HMA, and TACBeam type connectors. With their ultra-high precision alignment technology, superior low-loss optical performance, and ultra-low back reflection, one would be hard pressed to find a superior solution for high-speed fiber optic communication needs.
The F-Beam connectors are also ideal for applications beyond military shelters. They are commonly used for C4ISTAR, antenna systems, military vehicles, tactical military communications, remote broadcasting installations, radar systems, and oil & gas monitoring. In short, these connectors can be used anywhere it is critical to have reliable, high-speed data transmission.
Choose PEI-Genesis for Reliable Military Application Solutions
PEI-Genesis has both the knowledge and the products to support the market's current upward trend toward fiber optic solutions. Whatever your fiber optic needs may be, our specialists can find a COTS solution or create a custom-engineered design to meet not just your specifications, but also your project budget and lead-time.
PEI-Genesis is your partner in implementing state-of-the-art fiber-optic communication systems in any environment or application. Contact us today to find out what we have to offer you!