To meet the unique challenges that extreme environments bring, it is important to know what types of accessories are available to improve the performance of your cables and connectors and get the most out of your application. There are many key cable and connector accessories that can extend your application, significantly improve protection from environmental conditions, and prevent damage from strain. These accessories include backshells, heat shrink products, and protective caps.
Backshells
Backshells are an essential accessory for electrical connectors. They are threaded onto the rear of a connector shell to provide additional support and protection for the wire(s), resulting in a more polished look. Backshells are available in both Mil-Spec and commercial versions to meet applicable standards. Circular banding or crimp-ring backshell styles will require additional external protection such as heat shrink boots. There are also styles that can provide EMI/RFI protection depending on application requirements.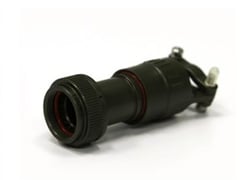 Connector backshells can be either environmental or non-environmental. Environmental models are meant for use in harsh environments and include sealing grommets and grommet followers which provide a protective barrier against water, sand, wind, shock, and other environmental hazards. They are also appropriate for applications where electromagnetic and radio frequencies need to be isolated. For example, the Amphenol M85049 military series is an EMI/RFI environmental backshell that is available in a variety of finishes and suitable for military applications. As might be expected, these Amphenol backshells are also available for non-environmental conditions.
Non-environmental backshells, on the other hand, are a cost-effective way to provide industry-standard cable support and strain relief, enhancing both a connector's performance and its longevity. These backshells provide strain relief when the environmental protection of the cable termination area is not a concern and are suitable for use in inside the box/climate-controlled room applications. Sunbank's M85049 circular connector backshells, which are lightweight and compatible with an extremely wide range of circular connector standards, are an excellent example of this type of backshell.
Heat Shrink Products
Heat shrink products serve four different purposes: they insulate the electrical component, seal against moisture and other contaminants, provide strain relief (especially at terminations), and protect against abrasion and other forms of mechanical wear. Additional benefits of heat shrink products include color differentiation, UV resistance, lower applied cost, and a significant reduction in installation time.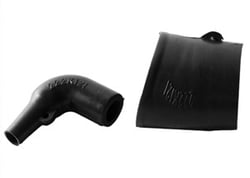 Straight boots are available in low-profile, lipped, and bulbous types, which are suitable for use on both circular and D-type connectors, as well as multiway transitions. Manufacturers such as HellermannTyton and TE Connectivity Raychem offer straight boots in a variety of materials and adhesives. You will often see them used in applications within the military, mass transit, and commercial marine markets. The same manufacturers also offer angled degree boots. For example, the TE Connectivity Raychem Heat Shrink Boot includes an adhesive coating to provide a strong seal against environmental contaminants such as moisture and dust, while also adding extra support against mechanical strain.
There is also heat shrink tubing for applications where there is a need to bundle and jacket electrical wiring. Zippertubing, HellermannTyton, and DSG-Canusa are some of the most widely utilized manufacturers of these particular cable accessories.
Protective Caps
Protective caps, also known as dust covers, provide protection against live circuits and environmental contaminants when a connector is not in use. These connector caps can be made from a soft, rubber polymer that creates a watertight seal or metal finishes. Dust covers are also available in both circular and rectangular designs. Polamco protective covers, for example, offer heavy-duty protection with a cap that always swings shut and cannot be lost because it is designed as a hinged piece. Polamco also manufactures rectangular caps for Micro-D and D-Sub connectors.
PEI-Genesis: Your Source for Cable and Connector Accessories
Having the right accessories for your connectors and cables can make or break a project, whether you need protective covers that always swing shut or EMI/RFI environmental backshells that can withstand the most rugged operating environment. At PEI-Genesis, we offer a wide range of products to enhance the performance and safety of your cables and connectors, including backshells, heat shrink boots, heat shrink tubing, and protective caps. Our team of experts will work with you to find the right solution for all your Mil-Spec and commercial needs.