eMobility encompasses a wide range of electric-powered transportation options — electric vehicles, hybrid electric vehicles, autonomous delivery vehicles, and e-bikes, to name a few. It stands among the numerous technological solutions dedicated to addressing environmental challenges. By electrifying transportation, we can create a more sustainable future, reducing greenhouse gas emissions, improving air quality, and lowering energy consumption.
To reduce the environmental impact of transportation, it is crucial to have interconnect solutions that are both durable and reliable. In this blog, we'll explore Amphenol's product lines, specifically focusing on rugged connectors designed to withstand high vibration and current while meeting safety requirements.
SurLok Plus™
Amphenol SurLok PlusTM are touch-proof, field-installable compression lugs with the latest R4 RADSOK® contact technology. Their IP67 rating makes them highly resistant to the challenging environments prevalent in eMobility, coupled with touch-proof technology (IP 2XB, IEC 60529). Additionally, they contain a "keyway" design to prevent incorrect mating and are field-installable.
Moreover, the SurLok Plus RADSOK® socket and contact construction are engineered to create optimal pressure across a broader section of the mating surface, resulting in low contact resistance. These connectors find regular application in electric vehicles (EV), hybrid electric vehicles (HEV), heavy equipment, energy storage, process control, and industrial automation markets.
UPC Series
The Amphenol UPC (Ultimate Power Connectors) series of rugged plastic connectors is designed for hybrid electric vehicles and heavy equipment markets. These 2-pole and 3-pole connectors use RADSOK® technology to deliver increased amperage, lower T-rise, minimized voltage drop, and lower resistance. Conveniently, these connectors come in a wide amperage range, up to 450A (95/120/150mm²).
In addition, the UPC series is known for its durability of 100 mating cycles and its easy installation and repair. They are lightweight with a compact design for space considerations with EVs. Furthermore, the Amphenol UPC connectors are touch-proof (IP 2XB, IEC 60529) and provide environmental resistance with their IP67 and IP69k ratings when mated.
EVs/HEVs, heavy equipment, power distribution units, and battery packs are among the applications that depend most heavily on these interconnects.
ePower-Lite
Likewise, the Amphenol ePower-Lite interconnects are designed with the EV/HEV market in mind. The ePower-Lite minimizes its footprint and maximizes current delivery with its lightweight plastic shell, using RADSOK® technology to save weight and space. This interconnect offers higher ampacity, lower T-rise, lower voltage drop, low mating, and unmating force.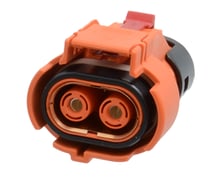 The ePower-Lite connectors are rugged and durable, with a minimum of 100 mating cycles, an IP67 rating, and a lightweight plastic shell that allows them to endure temperatures up to 125°C. These features combined make them a well-suited choice for the harsh conditions of eMobility applications. Additionally, the Amphenol ePower-Lite connectors are touch-proof and offer both High-Voltage Interlock (HVIL) and Electromagnetic Interference (EMI) shielding for safety and performance.
Amphenol ePower-Lite connectors have many utilizations in areas including eMobility (specifically EV/HEV), power distribution units, battery packs, air compressor controllers, and heavy equipment.
PEI-Genesis and Amphenol Industrial Support eMobility
PEI-Genesis partners with Amphenol Industrial — a manufacturer specialized in high-voltage connectors for harsh environments — to deliver durable connectors for a variety of eMobility applications.
To enhance support for your mobility connector needs, PEI offers in-house design support from our technical engineers. Leveraging our four global production facilities, we ensure customized connectors that are well-aligned with your design specifications with swift delivery. If you have any questions or would like to submit an order, please call 866-734-9111 to speak directly with one of our sales representatives. For in-house design support, click the button below!