Failure is not an option in critical harsh environment applications related to aerospace, aviation, oil and gas, and medical markets, which is why having reliable components is key. Any failures related to commercial air, medical devices, and oil rigs can quickly lead to catastrophic results. The same is true for the electrical connectors: if they fail to perform as expected, it can lead to extensive damage and even loss of life. There are, however, four causes behind most electrical connector failures. The good news? These failures can be avoided by keeping these four concepts in mind:
1. Always Consider Mating Cycles
Repeated connection and disconnection of electrical connectors causes a significant amount of wear and tear, resulting in corrosion of the contact metal if exposed to harsh environmental conditions such as water, dust, and other types of debris. Connecting and disconnecting also poses a risk of bending the contacts when repeatedly mating the connector pairs.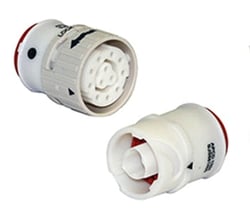 If an application calls for repeated mating and unmating, it's important to consider a scoop-proof design that successfully prevents the possibility of bending or shorting contacts during the process. This is accomplished by having the pins recessed back in an elongated shell.
When selecting a connector, mating cycles are listed as one of the product specifications. This must be taken into consideration because excessive wear and a shortened life can be avoided by selecting a connector rated for the required mating cycles. This guarantees the performance of the connector up to the minimum number of mating cycles.
2. Choose the Correct IP Rating
Moisture, steam, dust, and fluids found in many harsh environments can cause a connector to fail, which is why many applications require specialty connectors with proper IP (Ingress Protection) ratings. IP ratings define the level of protection against dust exposure, short and long-term immersions, and high-temperature water and steam.
The first digit of an IP rating indicates the level of dust protection on a scale of 0 to 6, while the second digit represents the level of liquid ingress protection on a scale of 0 to 8. Which IP rating is chosen depends heavily on application requirements, and selecting the improper IP rating can be very detrimental. For harsh environments, connectors should always be dust-tight with water ingress protection, meaning a rating of IP68 or IP69.
3. Consider Exposure to Extreme Temperatures
If an application involves exposure to extreme temperatures and the selected connector is not designed to operate in that temperature range, the connector will eventually fail. When exposed to extremely high temperatures, the connector insulation fails and conductivity spikes, leading to corrosion and reduced contact force. This, in turn, can impact the electrical signal and inadvertently cause an open circuit.
On the other hand, extremely low temperatures (including cryogenic temperatures) can cause tin-plated connector materials to soften, which will lead to increased contact resistance. Low temperatures also cause plastic shells to become brittle if the temperature falls below the material's brittle transition temperature.
Selecting a connector guaranteed to perform within the range of the estimated temperature range is critical to avoid failure, as is choosing a connector with the correct shell material.
4. Choose the Right Latching Mechanism
Accidental disconnection of an electrical connector can cause the failure of an entire system. Because harsh environments usually include shock and vibration that can cause disconnection, it is vital to choose a connector with the proper latching/coupling mechanism.
Some common latching types of connectors include Push Pull, Bayonet, and threaded. There are different types of mechanisms such as a mechanical latch, clips, screws, and spring loaded as well. In addition, best practice includes the use of connectors that provide audible, visual, and/or tactile confirmations to indicate that a secure connection.
PEI-Genesis: Your Source for Durable Harsh Environment Connectors
At PEI-Genesis, we recognize the importance of finding a safe and reliable connector to meet the demanding conditions of harsh environments. Whether you are looking for a custom interconnect solution designed to applicable standards or you need help navigating key features such as mating cycles, IP ratings, operating temperatures, and latching mechanisms, we are here to help. Let our team of connector experts help you find a reliable interconnect solution for your harsh environment application.