Plastic connectors work exceptionally well in a wide variety of harsh environment applications, bringing with them significant advantages over their metal counterparts. Their lightweight, durable design means they can be found in construction equipment, military vehicles, automated factories, entertainment venues, and more. However, with that said, there are certain things one must know to fully understand when the use of plastic connectors is appropriate.
The Pros and Cons of Plastic Connectors
One of the immediately apparent benefits of using plastic connectors is their cost-effectiveness when compared to equivalent connectors with metal shells. Because of this, plastic connectors serve as an excellent alternative for some military applications that do not require a Mil-Spec connector. Military and defense applications typically utilize rugged, metal connectors that are fully qualified to military specifications. Still, reductions in military spending have opened up a market for non-military spec connectors for specific applications.
An excellent example of this is military vehicles: some vehicles do not have to be engineered to the same degree of ruggedness, and applications within these vehicles (e.g., lighting, heating, cooling, mirrors) do not require the same level of reliability.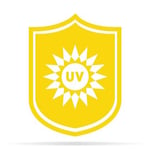 Plastic connectors are also lightweight, which can be important for applications that require minimal weight. They are also very versatile, more ergonomic for handling, and come in a wide range of color-coding options for easy identification. Compared to metal connectors, plastic connectors work well for outdoor applications because they offer better moisture resistance and are more resistant to saltwater than their metal counterparts while also being more UV-stable.
While plastic connectors offer a range of advantages, they are not suitable for all harsh environment applications and cannot take Mil-Spec connectors' place in designs that require them.
As previously mentioned, plastic connectors are UV-stable, but extended exposure to heat and sunlight can cause the plastic to deteriorate form cracks. For this reason, connectors for outdoor use should be manufactured from a durable thermoplastic material as opposed to a more rigid, crack-susceptible thermoset.
Plastic Connectors for Harsh Environments
Of the many rugged circular plastic connectors available on the market, two harsh environment connectors maintain widespread use: the Amphenol ecomate® series and the ITT Cannon APD series.
Amphenol ecomate
®
Plastic Connectors
Amphenol ecomate® plastic connectors are lightweight but rugged circular connectors with a high-impact thermoplastic design. These Amphenol connectors are suitable for indoor and outdoor applications in a wide range of industries, including factory automation, medical care, transportation, heavy equipment, entertainment, and lighting. They are used with various equipment, including welding tools, robotics, drive systems, and hydraulic controls.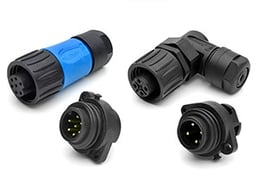 Amphenol ecomate® connectors have a rapid threaded coupling that seals to IP67 when mated. They are quick and easy to connect, have a maximum current rating of 16A, and have been specifically engineered for use in extremely harsh industrial environments. They also provide a vibration-resistant connection through stable, non-sensitive screw locking.
ITT Cannon APD Series Connectors
ITT Cannon APD series connectors are ISO 5170 circular connectors with a high-quality thermoplastic housing that meet all the environmental requirements for harsh applications such as agriculture, construction, heavy-duty trucks, and general industrial applications. They are available in IP67 up to IP69K sealing and are extremely resistant to automotive fluids, salt spray, grease, and water.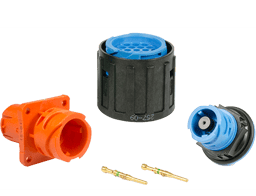 These ITT Cannon connectors have a quick-mating bayonet coupling along with lock wire holes for added security and fold-over clamshell end bells. They come in up to four color-coding options to prevent mismating and are polarized by color using internal keys and keyways to mate only connectors of the same color.
PEI-Genesis: Your Source for Harsh Environment Plastic Connectors
Not all plastic connectors are created equally. While there are many benefits to plastic connectors, certain product lines are far better adapted to harsh environments and offer significant advantages over their metal counterparts. If you are considering using thermoplastic connectors in your design, let the experts at PEI-Genesis assist you in narrowing down the options to the ideal plastic connector for your application.