When operating heavy-duty industrial equipment, it is important to find the right kind of electrical connector — one that's capable of performing in various extreme conditions. Electrical connectors used in industrial heavy equipment applications must be rugged, able to withstand heavy-duty use and exposure to chemicals, water, oils, mud, dust, salt spray, and debris, and must have sealing capacities of up to IP69K. They must also perform in environments with extreme temperatures, shocks, and vibrations. There are multiple aspects of heavy-duty equipment where reliable connectors are a must to make a truly connected system. This article — the first of a two-part series — will focus on industrial connector solutions for steering and motion systems, power management, and powertrain systems.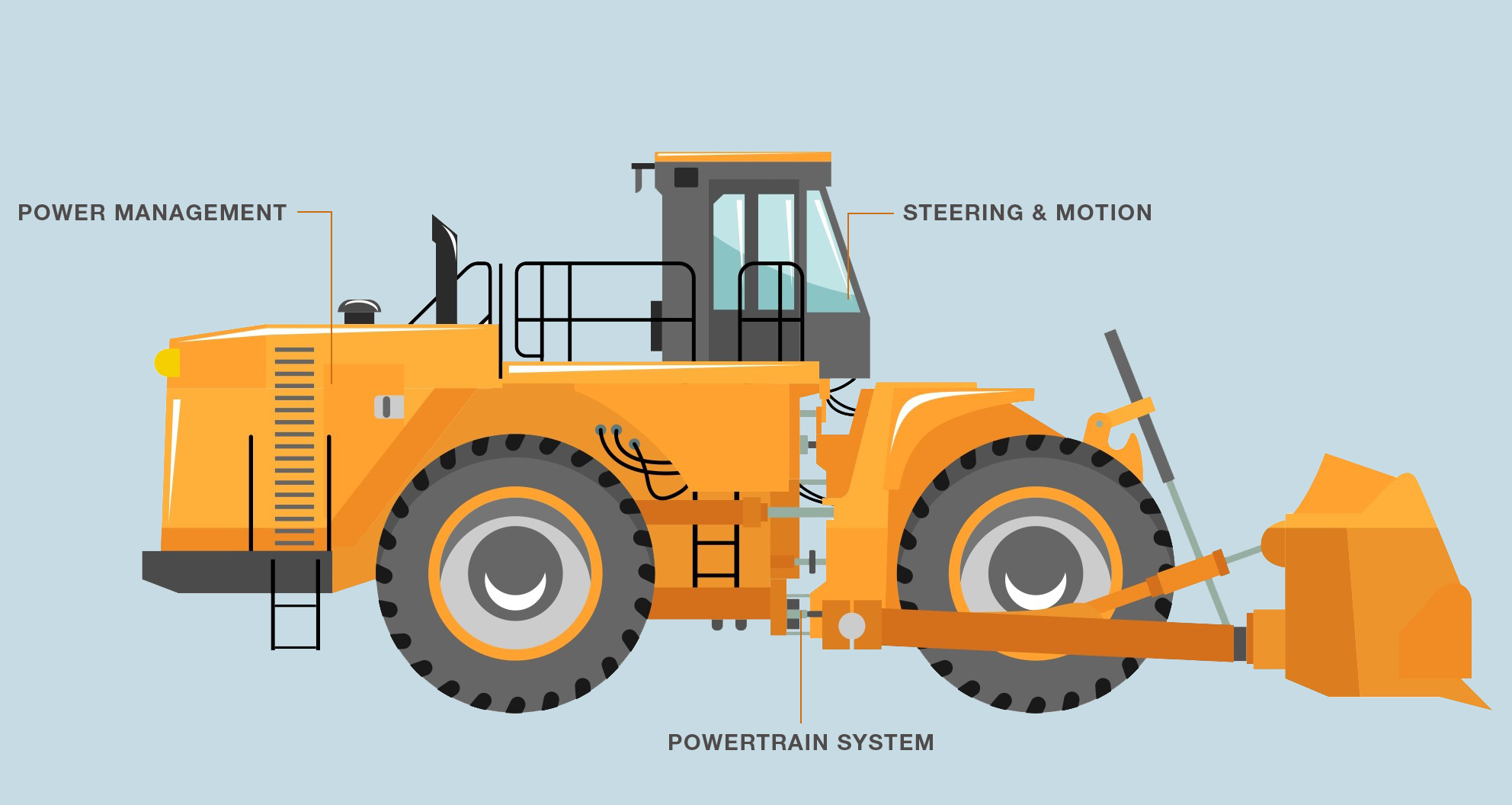 Steering and Motion Systems
Steering and motion systems in industrial heavy equipment require industrial connectors that are highly reliable and durable. When used in connection with mobile earthmoving or construction equipment, steering and motion system connectors must withstand extreme impacts, harsh environments ranging from dusty to wet, and varying intense temperatures.
ITT Cannon Trident Neptune Metal (TNM) Connectors
For heavy equipment steering and motion, one reliable electrical connector solutions is the ITT Cannon Trident Neptune Metal (TNM) connector series. These circular connectors are specifically designed to meet the needs of systems that require shielding, sealing, and the extra durability of a metal shell. These ITT Cannon connectors, which are available in up to IP67 cable sealing and with a guarantee of 200 mating cycles, feature nickel-plated zinc-alloy shells with UL 94 V-0 rated thermoplastic insulators and a metal coupling ring for high reliability and durability. ITT Cannon TNM connectors offer both cost-effective and simple solutions to steering and motion systems.
Power Management Systems
Another critical system in industrial heavy equipment is power management, which could involve powering a network of equipment at an oil and gas drilling site, or even a massive hydraulic shovel at a mining operation. What these two vastly different power management applications have in common is the need for industrial connectors that are reliable, field installable, compact, and IP67 rated.
Amphenol SurLok Plus Compression Lugs
A common solution for power management systems on heavy-duty industrial equipment is Amphenol SurLok Plus Compression Lugs with R4 RADSOK® contact technology that are designed for this type of application. These Amphenol connectors are touch-proof and IP67 rated with a compact, robust design. They have a quick lock and press-to-release design with a keyway designed to prevent incorrect mating. Amphenol SurLok Plus compression lugs are highly reliable, field installable, have a 360° rotating plug and are available in various termination options, including threaded, crimp, and busbar.
Powertrain Systems
Mobile heavy industrial equipment have powertrain systems that operate in harsh outdoor environments, which means they must resist ingress of environmental hazards such as saltwater, dust, and mud — and possibly even be hermetically sealed. They also need to be lightweight, compact, and both quick and easy to install.
SOURIAU 851 Series
The SOURIAU 851 Series connectors offer many solutions for powertrain systems on industrial heavy equipment. These robust, RoHS compliant connectors, which are available in hermetic versions, have been designed specifically for outdoor use and are able to withstand climate ingress and corrosive environments. Like many SOURIAU connectors, they offer outstanding performance in salt spray environments and are salt spray resistant for 500 hours. SOURIAU 851 Series of connectors have a ⅓ bayonet coupling mechanism with an audible click, which eliminates the uncertainty with the connection while also reducing time and labor during installation.

PEI-Genesis Knows Industrial Connectors
Finding the right electrical connector to meet the needs of harsh industrial environments can be tough. From technical specifications to delivery times and compatible cables, there are many factors to take into account when searching for connectors.
To meet these unique challenges, PEI-Genesis will work with you to develop custom-engineered industrial connector solutions to meet the needs of even the most challenging environments. And the connectors talked about here are only part of the story: look for our next blog on October 17th, when we'll move our focus to the inside of the cabin of heavy-duty equipment and see some of the parts that operators interact with to make all of this happen!