In an ever-evolving transportation industry, each new development impacts how we live and work. Mass transit, for example, has enabled cities to relieve traffic congestion, while new approaches to fuel and emissions have aided pollution reduction efforts. Transportation also fuels economic growth by providing much-needed job opportunities, especially in cities where systems are being configured to take advantage of new technology. These jobs can be found in the manufacturing sector, as well as mass transit, where bus drivers and rail conductors are a must. With innovations such as light rail, next-generation buses, and sustainable design, there is also a demand for advanced interconnects.
Rugged Connectors for Transportation
Safety is a driving force in the design of systems and components for the transportation market because these systems interact with humans, which is why highly reliable, high-quality interconnects that are compatible with industry standards are in such high demand. These connectors must be able to function in harsh environments that expose them to various weather conditions (including extreme temperatures, humidity, rain, snow, and salt-water spray) as well as dust, vibration, UV exposure, and potentially corrosive substances.
Two product lines that are well adapted for use in even the most rugged conditions faced by the transportation industry come from brands with a reputation for durability and dependability: ITT Cannon and Amphenol.
ITT Cannon Trident Multiway Rack and Panel Connectors
ITT Cannon Trident Multiway Rack and Panel Connectors are rugged rectangular connectors engineered to meet the stringent requirements of MIL-C-28748, MIL-STD-202 and IEC 512. These ITT Cannon connectors are IP40-rated, meaning they are completely sealed against dust and other solid objects and are temporarily submersible up to 1 meter.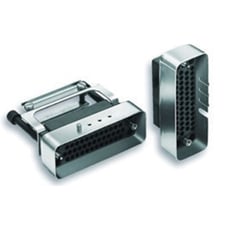 The ITT Cannon Trident multiway connectors are often used for railway applications, specifically trackside signaling. These rack and panel style connectors are available in six contact cavity arrangements with 14- to 75-way layouts able to support AWG 26-14. RoHS-compliant and recognized under the component program of CSA, these ITT Cannon Trident connectors are available plain, with a plastic hood, or with a die-cast metal hood and either a straight or 90-degree cable clamp.
Amphenol Sine Systems A Series Connectors
The Amphenol A Series is a family of sealed heavy-duty, multi-pin plastic, and metal connectors. Within this series is the AT Series, which has been designed for the rugged conditions of transportation applications and can be found in systems related to mass transit, rail, automotive, and heavy equipment. Amphenol AT connectors are RoHS compliant and include high-temperature silicone seals for outstanding protection from contaminants and moisture, even at extreme operating temperatures.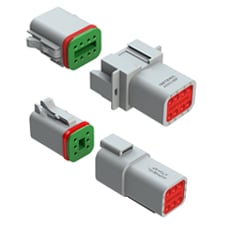 These rectangular connectors contain UV resistant, durable thermoplastic housing (which can be very important for connectors exposed to the sun) and include an integral latching system to achieve a reliable, secure connection — even in the presence of vibration. Amphenol AT connectors also have a wedge lock to further ensure proper contact alignment and retention. These rectangular connectors are available in a range of positions and layouts and are compatible with other industry-wide standard products.
PEI-Genesis: Your Source for Transportation Connector Solutions
ITT Cannon Trident Multiway Rack and Panel Connectors and Amphenol Sine Systems A Series Connectors are two examples of connector solutions available for your most challenging transportation applications. These connectors provide the durability and performance you need for applications where safety and reliability are key. At PEI-Genesis, our team of interconnect specialists are here to help you find and configure the right interconnect solution, whether it's off-the-shelf or custom engineered.