The demand for durable connectors remains high across many different industries, and the entertainment industry is no exception. Whether it's for concerts, sporting events, or filming, rugged industrial connectors play a crucial role in today's entertainment field. These connectors must meet the challenges of the harsh conditions commonly seen in outdoor applications, while maintaining a reliable connection to also meet the expectations of the spectators.
Entertainment Connector Requirements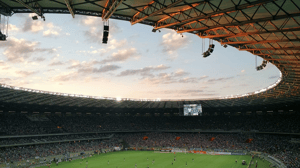 Industrial connectors in the entertainment industry have wide and varied uses in many differentlocations, ranging from outdoor concerts and sporting event venues to mobilized filming spots. The demands for connectors include signal, data transmission, and power and can be used in connection with lighting, sound systems, loudspeakers, effects, and audiovisual transmission. All of these factors play a huge role in spectator satisfaction, as they expect to be wowed by light shows, visuals, and high sound quality.


For outdoor venues and film locations, industrial connectors must be able to withstand any harsh outdoor condition that may develop such as rain, wind, and dust. Waterproof connectors that are environmentally sealed to a minimum of an IP67 rating are a must as the weather can be unpredictable at times and appear suddenly. On the other end, outdoor connectors must also be UV resistant to prevent degradation from repeated exposure to the sun as well. Just as the event-goers, these connectors must be prepared for any situation.
Regardless of the environment, entertainment industry connectors must achieve a secure connection and protect the contacts. Contact damage typically becomes a problem when connections and disconnections are done quickly, leading to another common entertainment industry complication: repeated mating and unmating. With this, connectors must be durable and able to support easy field installation and quick locking to minimize time and labor for both setup and teardown.
Connector Solutions for the Entertainment Industry
The SOURIAU UTL Series and the VEAM PowerLock connector series provide reliable solutions to meet the needs of the entertainment industry. Both of these durable product lines meet the typical requirements of the entertainment industry, including harsh environment resistance and easy installation.
SOURIAU UTL Series
SOURIAU UTL connectors are a part of the SOURIAU TRIM TRIO series — an industrial plastic connector product line that is suitable for outdoor applications. The SOURIAU UTL series offers extreme sealing with dynamic IP68/69K mated and unmated ratings and is also UV resistant. The installation of these SOURIAU connectors is technician friendly, as they can blind mate due to its key shape design and audible click when the connection is secure. They are also finger probe resistant and feature a safe disconnect under power load. In addition, these SOURIAU connectors are durable and made to last at least 500 mating cycles.
VEAM PowerLock Connectors
VEAM PowerLock connectors are another excellent connectivity solution for the entertainment industry. These rugged, plastic single-pole industrial connectors are keyed to prevent connections with the wrong line and are color-coded to suit 3-phase electrical systems that are used in the US, Europe, and Australia. These connectors are specifically made for use in high-power, low voltage applications. When unmated, the VEAM PowerLock bayonet connectors are rated IP2X for protection against finger touching of live electrical parts, and when mated they are sealed to IP67. This particular series of VEAM connectors are an ideal choice for outdoor events such as concerts and sporting that involve high electrical output.
Your Source for Entertainment Connectors
In the entertainment industry, customer satisfaction is of the utmost importance and in order to achieve this, lighting, audio, and visuals must all perform reliably no matter the conditions. Challenging outdoor environments filled with moisture and dust can easily compromise any event and leave spectators disappointed. At PEI-Genesis, our team understands that specifying the right connector is equally as important. These connectors must be durable, easy to install and have the ability to handle these harsh conditions. With both standard and custom connector solutions for the entertainment industry, PEI-Genesis can help set the stage for any type of event.