Ron Taylor joined the PEI-Genesis team last summer. Since then, he has been enjoying exposure to the numerous markets we serve and learning our suite of connector, cable assembly, and sensor offerings. Ron's background is with original equipment manufacturers, so the distribution business is relatively new territory for him.

Ron appreciates the customer face time that comes with being a Sales Engineer. Instead of being chained to a desk, he's out interacting with clients. After spending most of his career involved in design and development, the transition to sales has been a welcomed challenge. Moreover, Ron really enjoys the family culture at PEI, where everyone has a voice.
Ron knew he wanted a technical degree since his university days. He chose mechanical engineering because it presented many opportunities after graduation. Ron's first job was as a quality engineer working for a NASA contractor, but he knew he wanted to focus on design engineering, and soon started with a company specializing in plastic and rubber components for the Oil & Gas industry.
Ron's initial work in the Oil & Gas sector had him designing custom products, including seals and molded plastic components used in downhole environments. That led to new opportunities at a variety of companies, and Ron spent the next few years developing lines of HPHT electrical connectors. Along the way, he pursued his MBA, allowing him to marry his product knowledge with business development training.
Oil & Gas is a relatively hostile environment as it can involve aggressive chemicals to extract and process crude oil. This coupled with pressure to 30,000psi and temperature to 400⁰F makes designing components for downhole tricky. Downhole tools are loaded with electronics to serve as the eyes and ears of a drilling operator, and need to be protected from fluid ingress while operating at HPHT conditions.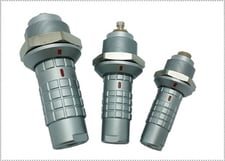 Ron sees substantial opportunity in the Oil & Gas industry for PEI. While currently focused on topside products, Ron believes there is an opportunity to expand into subsea and downhole environments. He is broadening his horizons into Ex connectors and cable assemblies for hazardous environments.
When he's not out selling solutions to customers, Ron likes to spend time with his wife and two daughters. He enjoys scuba diving in the tropics, and when it comes to sports, follows his alma mater – Texas Tech. He's also a fan of Houston's pro teams – especially the Astros and the Rockets. We're happy to have Ron on our team here at PEI-Genesis!

.